From school meals and packed lunches to tuck shops and breakfast clubs, children eat a significant amount of food at school. This means it's vital the food on offer provides sufficient calories and nutrients to meet the needs of growing bodies and active minds. Fortunately, there are plenty of guidelines in place, and in many cases it's a legal requirement for nurseries, schools and colleges to promote healthy eating and provide nutritious food and healthy, balanced meals for children.
The exact rules when it comes to providing food in schools depends on where children live within the UK. This is because the governments of England, Scotland, Northern Ireland and Wales all have different rules and guidelines:
The rules also differ depending on the type of school children attend. In England for example, the School Food Standards must be followed by law for all maintained schools, and new academies and free schools are also expected to comply. However, independent schools do not need to adopt the standards, although they can choose to do so.
Milk on the menu
Although the different countries of the UK have different legislation in place, the aim is the same – to ensure that during the school day, pupils have access to nutritious meals and snacks with plenty of vitamins and minerals, and not too much fat, saturated fat, sugar or salt.
Milk and dairy products are included in the standards and regulations for each country, highlighting the important contribution they make to nutritional needs in children. For example, in England's School Food Standards, a portion of food from the milk and dairy group must be included every day. Lower fat milk must also be available for drinking at least once a day during school hours.
Regularly coming up with healthy ideas for packed lunch boxes that children will enjoy can be a challenge. As an easy guide to getting the lunchbox balance right, and in line with standards for school lunches, the easiest way to do this is to include at least one item from each of the four main food groups.
This means packed lunches should include:
At least one portion of fruit and one portion of vegetables
A starchy food such as bread, roll, pitta, wrap, pasta, rice, couscous, noodles or potatoes – preferably higher fibre versions such as wholemeal bread
Dairy foods such as milk, cheese, yogurt or fromage frais
Meat, fish, eggs or other sources of plant protein such lentils, kidney beans, chickpeas, peanut butter and falafel
A drink of water or milk is also important.
Snacks that are high in fat, sugar and/or salt shouldn't be included. Avoid adding:
Snacks such as crisps – instead pack nuts (check your school's policy on nuts first), seeds, vegetable sticks, breadsticks or individual portions of cheese
Chocolate, sweets, chocolate bars and chocolate-coated biscuits – instead pack fresh fruit, yogurt, rice pudding or malt loaf
Meat products such as sausage rolls, individual pies, corned meat and sausages instead pack a piece of chicken, boiled eggs, hummus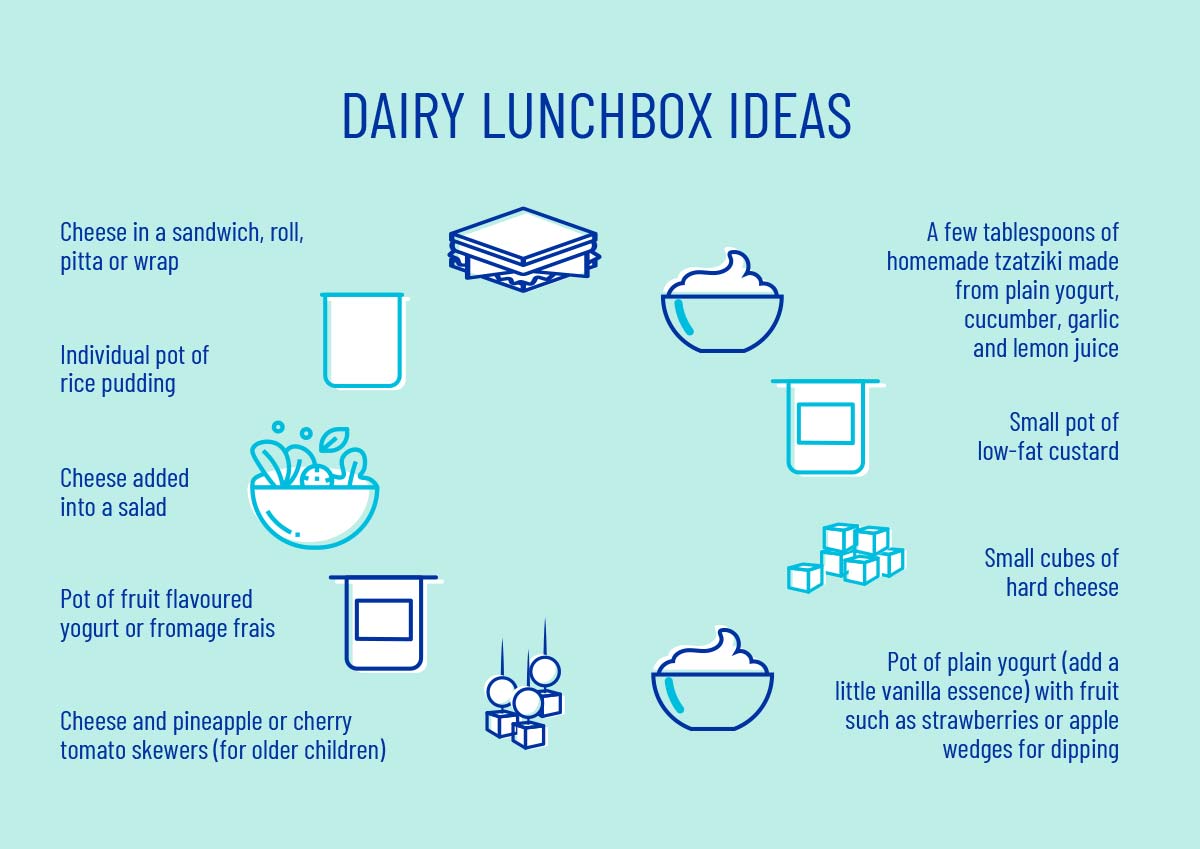 Last reviewed: 03/2021
Next review due: 03/2023