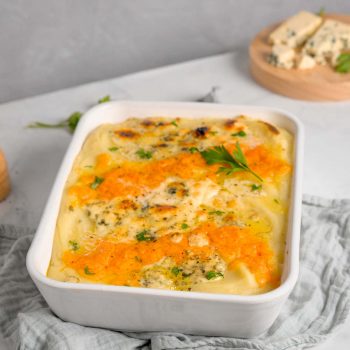 Baked blue cheese mash
This baked blue cheese mash is so delicious and the perfect side dish for Christmas! It includes three types of cheeses – making it extra creamy and extra special!
Ingredients
1.8

kg

potatoes (approx 6 large potatoes)

2

tsps

salt

1½

tsps

freshly ground black pepper

100

ml

milk

150

gr

butter

150

gr

cream cheese

1

cup

shredded Cheddar cheese

1

cup

blue cheese, crumbled

To grate: 1/3 cup shredded Cheddar cheese, 1/3 cup crumbled Blue cheese

To serve: 1 tablespoon finely chopped parsley, 3-4 squares cold butter
Instructions
Fill a saucepan with water and bring to a boil.

Cut the potatoes in half and put them in the boiling water. Cook for about 30-45 minutes until tender.

Empty the pan in a colander and let the potatoes cool down until you can easily peel them with your hands.

Place the peeled potatoes in a large bowl. 

Heat milk and butter using the same pan where you boiled the potatoes. Once the butter is melted, add to the potatoes. 

Stir in cream cheese, and season with salt and freshly ground black pepper. Using a fork or a hand blender, mash everything together until smooth. 

Add shredded Cheddar cheese and crumbled Blue cheese into the bowl. Mix everything together with a fork and transfer into an oven tray. 

Flatten the mashed potatoes with a spoon and top with crumbled Blue cheese and shredded Cheddar.

Place the tray in the oven and bake for 15 minutes until the cheese is gooey and melted. 

Serve immediately with chopped parsley and 3-4 squared pieces of butter on the top.