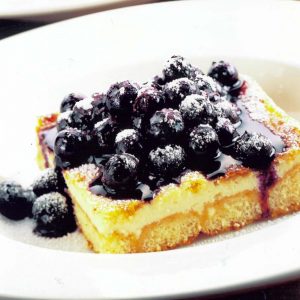 British cheesecake with warm blueberries
Enjoy a slice of this creamy and delicious cheesecake, made with low fat soft cheese and your choice of Wensleydale or White Cheshire cheese. Served with warm syrupy blueberries on top - this dessert is simply heaven on a plate!
Ingredients
Cheesecake
150

ml

orange juice

(1/4 pint)

14

sponge fingers

(boudoir biscuits)

1 x 200

g

tub low fat soft cheese

(7oz)

150

g

natural Greek-style yogurt

(5oz)

2

eggs beaten
50

g

caster sugar

(2oz)

2

tsp

vanilla extract

75

g

Wensleydale or white Cheshire cheese

(3oz) finely grated
Topping
175

g

blueberries

(6oz)

50

g

 caster sugar

(2oz)

icing sugar

for sprinkling

mint leaves, to decorate (optional)

(optional)
Instructions
Preheat the oven to 180°C / 350°F / Gas Mark 4. Grease an 20cm (8 inch) square shallow cake tin, or grease and line a deeper one with a loose bottom.

Pour the orange juice into a shallow dish, then briefly dip in the sponge fingers, one by one, and line them up in the base of the cake tin to fit snugly. You will have to trim some of them to fit. If you have any juice left, sprinkle it over the sponge fingers.

Beat together the soft cheese, yoghurt, eggs, caster sugar, vanilla extract and Wensleydale or Cheshire cheese. Pour over the prepared base. Transfer to the oven and bake for 45 – 50 minutes, until risen, set and golden. Cool, then remove from the tin.

For the topping, warm the blueberries with the sugar and about 3 tablespoons of water for about 2 – 3 minutes, until the sugar and juice from the blueberries turns syrupy.

Cut the cheesecake into portions and spoon over some of the blueberries. Sprinkle with a little icing sugar, then serve, decorated with mint leaves, if you like.
Notes
Cook's tip: You could use finely grated mild Lancashire or Caerphilly instead of Wensleydale or Cheshire, or try white Stilton or Wensleydale with apricots – and top with drained canned apricots in natural juice, warmed with 2 – 3 tablespoons of apricot conserve.