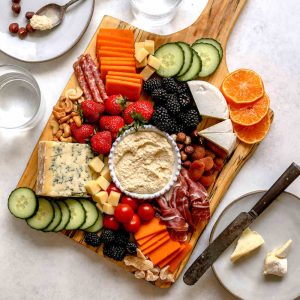 Charcuterie cheese board
Our charcuterie cheese board makes for the perfect party food or dinner for a date night in. Celebrate your favourite cheese, dips and ingredients in style and wow your guests with a sumptuous platter - with minimal effort! Everyone will love this easy "recipe".
Ingredients
Red Leicester

Stilton

Cheddar

Brie

Any other desired cheeses

Meats, such as ham, prosciutto, or salami

Mixed nuts

Vegetables such as cucumber, tomato, small peppers, olives

Fruits, both fresh and dried

Houmous
Notes
Making a great charcuterie board is more about the method than following a strict recipe. Feel free to choose the items that are your favorites! Here are tips for the best board:
Use the right size board. The platter should look full and bountiful, so if need be, use a smaller board and fill it with more food.
Start by placing your biggest items like the cheeses. Slice them in different ways to make it visually appealing: cubes, slices, wedges, etc.
Mirror the colours on different corners of the board. If you place something green in the top right, follow suit in the bottom left.
Make sure to place different colours next to each other to ensure they pop!
Vary the textures and sizes of the different items.
Don't stress - it's hard to mess this up!