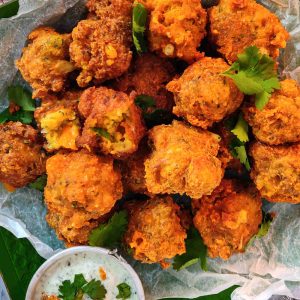 Cheese Pakoras
Spiced, crispy pakoras are very moreish and rather addictive at the best of times; these pakoras are a cheesy alternative to traditional onion pakoras and incredibly irresistible. A combination, of light fluffy potatoes, onions, mixture of cheeses, enrobed in a rich and fragrant, spiced batter.
Ingredients
250

g

gram flour

2

tsp

cumin seeds, crushed

1

tsp

red chilli powder

1

tsp

garlic, minced

200

g

pre-cooked, crushed potatoes

10-15

g

coriander finely chopped

300

g

mixed cheese, ½ cm2 cubed

1

tsp

salt

½

tsp

bicarbonate of soda

sunflower oil for deep frying
Instructions
Sift gram flour into a medium bowl and mix in all the spices and salt. Pour 150mlpre-boiled warm water to form a thick batter.

Combine pre-cooked potatoes, onions, and chopped coriander into the spiced batter.

Meanwhile pour oil halfway up in a karahi or wok over a medium heat.

Add the cheese and bicarbonate soda to the spiced pakora mixture and combine well.

Test your oil is hot enough by dropping a little batter into the oil. If it browns and rises immediately then it is ready. Very carefully drop in a few spoonsful of the pakora mixture into the oil and fry until golden brown. Taste the first batch and adjust seasoning if required.

Using a slotted spoon move the pakoras around, once golden brown and crisp remove from the oil and set on some kitchen paper.

Serve immediately, when they are crispy and hot - delicious straight out of the pan or dipped into a sauce. They can be kept warm in an oven and served within 30 minutes of cooking.
Notes
Be mindful not to overcrowd the pan with too many pakoras as this may reduce the oil temperature.
Cook the batter mixture straight away, it will drop to a thinner consistency if left too long and the ingredients will not form into round balls.
Bicarbonate soda helps to create a lighter batter and crispier pakoras.
Replace red chilli powder with ground black pepper for less heat.
These pakoras are a great way to use up any left-over, cheeses such as Cheddar, Red Leicester, Double Gloucester. Wensleydale, Cheshire.
Serve with a creamy coriander & mint sauce by combining mint sauce with Greek-style yoghurt, a few sprigs of finely chopped coriander and salt to taste – great for party nibbles such as holidays like Christmas or New Year's or any other gatherings.