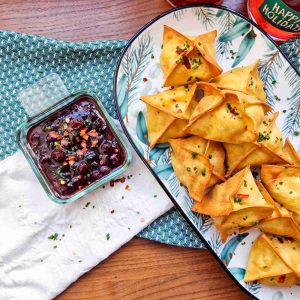 Cheese wontons with cranberry chilli dip
These wontons are crunchy with a creamy spiced cheese filling which make the perfect appetisers, party, or snack food. A crowd-pleaser and no need for deep-frying, so easy to make. Fantastic at Christmas!
Ingredients
For the wontons
300

gr

full fat cream cheese, softened

15

gr

fresh chives, finely chopped 

2

tsp

Asian chilli oil, shop bought

18

wonton wrappers

1

egg, beaten

50

ml

cooking oil
For the dipping sauce
100

gr

cranberry sauce

½

tsp

chilli flakes

1

tbsp

teriyaki sauce
Instructions
In a large bowl, combine softened cream cheese with chopped chives, and chilli oil.

To wrap each wonton, place a wonton wrapper on a flat surface and drop 1 teaspoon of cream cheese mixture onto the centre of a wonton wrapper. Remember not to overfill the wontons. With a pastry brush or your finger, take a little of the egg and coat the four sides of the wonton wrapper.

Bring two opposite corners together in the middle of the wonton and pinch. Repeat with the other two corners so, bringing the corners into the middle and pinch the sides together to seal and close the seams. Repeat with the remaining wontons and cream cheese until all are filled.

Once all the wontons are wrapped, pre-heat oven to 200°c/180°cfan. Brush a large non-stick baking sheet with oil. Brush cooking oil over wontons, then place them up onto a baking sheet, make sure to space out wontons. The wontons to be baked yet taste fried with just a little oil!

Bake for 8 minutes or until the edges of the wontons are a deep golden-brown colour. Remove from oven and allow the wontons to cool for a few minutes before serving.

While the wontons cool, make the dip. In a small bowl mix the cranberry sauce, chilli flakes, and teriyaki sauce.

Sprinkle the warm wontons with chives and serve with the cranberry dipping sauce.
Notes
These baked wontons are best consumed warm and eaten shortly after cooking.
Add salt if desired; most chili oils come well-seasoned.