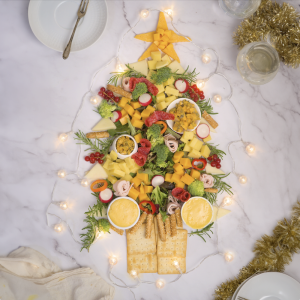 Christmas tree-shaped charcuterie board
Transform your table into a festive feast with our Christmas tree charcuterie board. Choose from Cheddar, Devonshire, and Wensleydale, or add your favourite cheeses for a personalised touch. Perfect for sparking that Christmas spirit!
Ingredients
1

handful of rosemary leaves

50

gr

lettuce leaves

50

gr

broccoli florets

1

small red or orange pepper

50

gr

radish

100

gr

Red Leicester

100

gr

White Cheddar

100

gr

Devonshire cheese

100

gr

Wensleydale cheese

50

gr

salami

50

gr

cured ham

50

gr

gooseberries

breadsticks

crackers
Orange Cheddar Sauce
100

gr

Red Leicester

2

tbsp

double cream

1

tbsp

butter

¼

tsp

salt

¼

tsp

ground black pepper

¼

tsp

oregano
Instructions
Cut broccoli florets into small pieces.

Compose the Christmas-shaped charcuterie board using crackers as the tree trunk and rosemary leaves, lettuce and broccoli as the tree branches.

Fill with diced cheeses, veggies, rolled-up salami and cured ham.

Decorate your tree with berries.

Create a star out of Cheddar

Just before serving, prepare the Cheddar sauce: place ingredients in a pan and cook at low heat until the butteris melted and the cheese starts to look gooey. Blend using a hand blender and heat for 2 more minutes. Serve immediately on the charcuterie board.