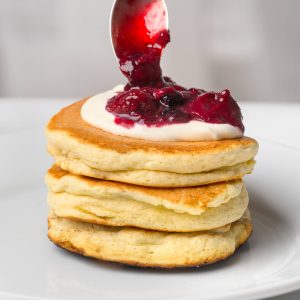 Fluffy Japanese pancakes
You've probably seen these Japanese pancakes everywhere - well, now you can prepare them yourself at home! Topped with a homemade berry sauce and crème fraiche, these fluffy pancakes make for a delicious breakfast treat!
Ingredients
For the pancakes
2

egg yolks

50

grams

table sugar

80

mls

whole milk

120

grams

white flour

½

tsp

baking powder

4

large egg whites

1

tsp

fresh lemon juice

1

tsp

butter
For the berry sauce
250

grams

fresh berries

100

mls

maple syrup

1

tbsp

butter
Instructions
Combine fresh berries with maple syrup. Cover and cook for 20 minutes at low heat, until the berries are softened. Once cooked, take away from heat and slightly smash with a fork.Set aside.

In a medium bowl,whisk egg yolks with sugar until creamy. Add in milk.

In a separate bowl,combine flour and baking powder.

Roughly combine with the yolk mixture (lumps are ok at this step!) and set aside so that the flour hydrates with the egg yolk and milk.

In a large bowl, whip egg white with lemon juice for around 5 minutes, until thick stiff peaks are formed. 

Gently pour the whipped egg white into the yolk and flour batter.  Slightly whisk them together until incorporated, making very slow movements so that the egg whites don't deflate. 

Heat a large pan over medium heat.

Add in 1 teaspoon butter and spread with a kitchen paper until the whole pan is greased.

Scoop 3 table spoons of pancake batter per each pancake onto the pan. Cover the pan with a lid and cook the pancakes for 5 minutes until some bubbles appear in the top.

Once cooked through and golden on the outside, flip and cook on the other side. 

Repeat until all the batter is done and set the pancakes aside. 

Serve pancakes with a good amount of berry sauce and crème fraiche.