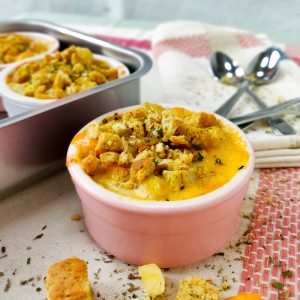 Four cheese gnocchi pots
Mini gnocchi baked pots with spectacular cheeses, showcasing the sharp, creamy rich, and nutty flavours of fabulous British cheese and topped with a crunchy crumb. Perfect for a light lunch or a quick and easy starter.
Ingredients
300

grams

shop bought gnocchi

½

tsp

salt

200

grams

four cheeses of choice, crumbled

200

ml

double cream

¼

tsp

ground black pepper

20

grams

crushed croutons

1

tsp

mixed dried herbs
Instructions
Preheat oven to 200c/180c fan/gas mark 6. In a large saucepan place water to boil and add salt.

 Cook the gnocchi as per instruction on the pack and gently sieve and drain once cooked.

Place the gnocchi back in pan, pour in cream, black pepper and two thirds of the cheese and gently combine and divide into ovenproof mini pots.

Scatter the remaining cheese on top the gnocchi pots. Place the pots in an oven proof tray and bake for 8 minutes, until slightly golden.

Mix the croutons and herbs together and sprinkle the crushed, herby croutons over the baked gnocchi pots and cook for a further minute or so. Serve with spring greens or salad.
Notes
This recipe is great way to use cheese leftovers, ideally, cheeses in contrast with flavour and colour.
This is a recipe that takes little time yet impressive, packed with flavours and textures. Replace black pepper with mustard or chilli flakes to switch things up!
This recipe used British cheeses: cheddar, Wensleydale blue, double Gloucester, and red fox.