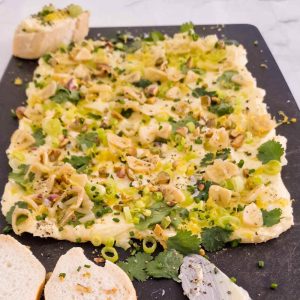 Garlic and lemon butter board
This garlic and Lemon butter board recipe is simply delicious. Garlic confit studded in creamy butter with lemon zest, fresh herbs and more. Serve with a choice of bread.
Ingredients
250

grams

unsalted butter softened

100

ml

olive oil to sauté garlic

4-6

cloves garlic, peeled sliced

8-10

salted pistachio kernels chopped

2-4

spring onions (optional)

4-6

sprigs of coriander use leaves only

10-12

sprigs of chives, finely chopped

1

pinch flaky sea salt

¼

tsp

black pepper, preferably freshly grounded

½

lemon zested

bread, toast, or crackers of choice
Instructions
Prepare the garlic by heating the olive oil in a small saucepan over low to medium heat and add in the garlic once the oil is warm; ensure garlic is submerged. Gently cook on a low heat for approximately 10 minutes or until the garlic is softened. Sieve the garlic, set aside, and allow to cool. Store the flavoured oil use for dressings and drizzling.

Spread softened butter across a chopping board, scatter the confit garlic slices over the butter. Sprinkle the chopped nuts, fresh herbs, and spring onions.

Zest lemon over the butter, then a sprinkle of flaky sea salt and freshly grounded black pepper.

Serve immediately with your choice, bread, toasts, or crackers and enjoy!
Notes
This recipe is super quick and takes around 30 minutes to put together and is a great crowd pleaser.
It's gluten-free, grain free and sugar free recipe. This butter is equally scrumptious to sauté poultry and seafoods or a mix with just cooked pasta or potatoes.