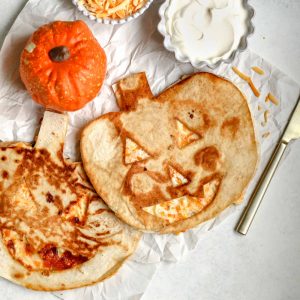 Halloween Quesadillas
These jack-o-lantern quesadillas are such a fun meal to have around Halloween time! They're quick, easy and a really fun way to get your kids in the kitchen. Using only a few simple ingredients including delicious Cheddar cheese and cream cheese, these quesadillas are the perfect meal or snack.
Ingredients
4

flour tortillas

100

grams

room temperature cream cheese

200

grams

grated cheddar cheese

50

grams

butter

sour cream and/or salsa for serving
Instructions
Begin by using a knife or kitchen scissors to cut 4 tortillas into the shape of a pumpkin. Stacking 2 of the tortillas on top of each other before shaping ensures that you have a top/bottom for the quesadilla that match! Don't forget to add eyes and a mouth to one side to make it look like a true jack-o-lantern.

In a small bowl, mix the cream cheese and cheddar cheese until it's fully combined.  Divide the mixture into 2 and spread on 2 of the tortillas without faces. Top the 2 tortillas with the other 2 tortillas with faces.

Heat a skillet to medium/low heat and add half of the butter to the pan. Once the butter is melted and heated, add the quesadilla to the pan and cook on each side for 1-2 minutes, until golden brown and the cheese is beginning to melt.

Repeat with the second quesadilla and serve warm with sour cream or salsa for dipping.