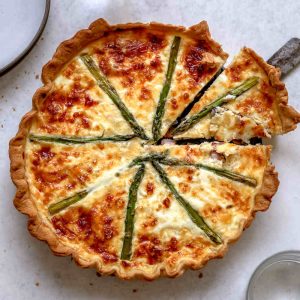 Ham, cheddar and asparagus quiche
This ham, cheddar and asparagus quiche is the perfect brunch, lunch or snack dish. It's full of delicious ham, cheddar and asparagus, all packed into a flaky pastry and tender egg filling. It's so easy to prepare for a crowd or to tuck into during the week!
Ingredients
1

sheet

premade short crust pastry

2

tbsp

butter

1

onion, chopped

1

ham steak, cubed

100

grams

asparagus spears

4

eggs

250

mls

milk or cream

150

grams

shredded cheddar cheese
Instructions
Begin by preheating the oven to 190 degrees and grabbing a pie dish, preferably one with a removable bottom!

Line the pie dish with the shortcrust pastry sheet, allowing the edges to fully cover the edges of the pie dish. Trim, and if desired, crimp the pastry edges before pricking the pie crust bottom with a fork and blind baking it for 10 minutes in the preheated oven.

While the crust is blind baking, melt the butter in a large skillet before adding the onion. Saute the chopped onion for 1-3 minutes or until fragrant and beginning to become translucent.

Add the pieces of chopped ham/gammon steak and saute for another 3-4 minutes or until the gammon is cooked. Remove from the heat.

When the pie crust comes out of the oven, spread the gammon and onion mixture evenly over the bottom. Sprinkle the cheddar cheese over the gammon.

In a bowl, whisk the eggs and milk or cream before pouring over the ham mixture in the quiche dish.

Neatly arrange the asparagus on the top of the quiche as desired and bake for approximately 30 minutes on the lowest rack in the oven. Once the 30 minutes are up, check that the quiche has no wiggle remaining in the middle. It should be just set. If needed, bake for 2-5 minutes longer until properly cooked.

Remove from the oven and allow to cool until warm before attempting to remove from the pan. Slice and enjoy!