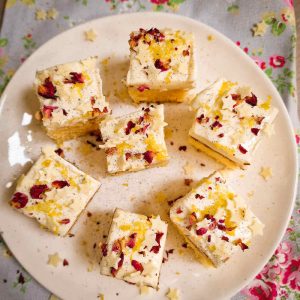 Lemon drizzle cream cake
Try this delicious twist on a British classic. A delightful lemon sponge cake, infused with lemon drizzle and topped with a luscious lemon cream. Absolutely scrumptious!
Ingredients
For lemon traybake
150

grams

soft unsalted butter, plus extra for greasing

150

grams

caster sugar

4

medium eggs, beaten, room temperature

200

grams

self-raising flour

1

tsp

vanilla extract

100

grams

lemon curd
For lemon drizzle syrup
Juice of 2 lemons, 100ml approx

2

tbsp

caster sugar
For lemon cream topping
600

grams

cream cheese

200

grams

lemon curd

lemon zest, for garnish (optional)
Instructions
Preheat the oven to fan 160°C/180°C. Lightly grease a deep baking trayand line the base with baking paper or alternatively use a non-stick bakingtray. 10" x 8" size tin

Cream together the butter and caster sugar until smooth, pale, light, and fluffy. Preferably with a free-standing mixer or electric hand whisk.

Progressively pour in the beaten eggs, combining well until fully incorporated after each addition. Gradually add the sifted flour and mix to combine well. Add the lemon curd and vanilla extract then mix until the batter is smooth, but do not over mix.

Gently Spoon the mixture into the prepared baking tray, spread into the corners and smooth the surface with a palette knife. Bake on the middle shelf of the preheated oven for 20 minutes or until golden and well risen and a skewer/cocktail stick inserted into the centre of the cake comes out clean.

Pierce the cake evenly with a table fork and allow the cake to cool in the baking tray. Mix the lemon juice with the caster sugar and gradually with a teaspoon drizzle the syrup over the top of the warm cake. Continue to allow the cake to cool in the baking tray. Once cooled remove baking paper and transfer and place on serving plate.

To create the topping, in a bowl mix the cream cheese combined with the lemon curd until smooth, do not over mix. make certain the cake is completely cool before icing. Roughly spread the cream cheese mixture on top of the cake with a palette knife. Garnish and decorate as you wish, just before serving.
Notes
Once you've spooned the cake mixture into the tray, tap sharply on a flat surface to prevent air bubbles for an even rise.
Serving size depends on how you wish to serve – mini squares cakes for afternoon tea or large squares for pudding, so ranges from 8 portions onwards.
Lemon zest, edible flowers, white chocolate cake confetti and popping candy, make great decorations especially for a celebratory occasion.