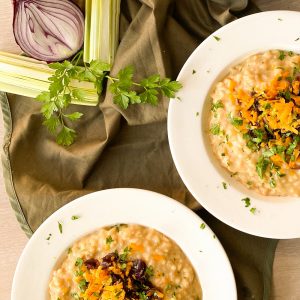 Mature Cheddar and onion risotto
A classic gathering of fabulous aged cheddar and sweet browned onions in a comforting, warm risotto. It's sure to satisfy with richness, depth, gorgeous gooeyness, and the natural creaminess of risotto. Impressive, yet easy to create.
Ingredients
1

Ltr

vegetable stock, hot

80

grams

butter

1

medium leek/150g approx., finely chopped

2

cloves garlic, peeled and finely chopped or minced

400

grams

risotto rice

1

tsp

hot English mustard

200

grams

mature cheddar, roughly chopped

40

grams

Red Leicester cheese, freshly grated

4

sprigs fresh parsley finely chopped

freshly ground black pepper and salt to taste
Caramelised Onion
4

medium red onions/500g approx., sliced

60

ml

olive oil

1

tsp

brown sugar

¼

tsp

salt

pepper to taste
Instructions
Preheat oven to 200ºC fan. Place sliced onions evenly out on a large baking sheet.

Drizzle olive oil, scatter the sugar and season with salt and pepper. With your hands mix to make sure everything is evenly coated.

Roast at 200ºC for 30 minutes, turning with a spatula every 10 minutes, for even cooking.

Place the stock in a medium saucepan and keep hot on a gentle simmer.

Melt the butter over medium heat in a large pan and sauté the leeks and garlic, until fragrant and softened; about 5 minutes

Add the rice to the pan, and cook 2-3 minutes, stir continuously until the rice looks slightly translucent and the centre is still opaque. then stir in the mustard.

One ladle at a time, pour in the hot stock, stirring the rice constantly until the stock has been almost completely absorbed by the rice. Then add another ladle and continue adding stock until the rice is al dente and the stock is creamy and dense. This should take about 20 minutes.

Remove onions from the oven once translucent. Onions will reduce considerably in size, during cooking, ensure not to overcook them. Set aside.

Reduce pan heat to low, add the vintage cheddar cubes, stirring it into the rice until it melts.

Remove the pan straight off the heat, Season with salt and pepper to taste. Continue stirring while you spoon the risotto into bowls. Add the caramelised onions to each bowl of risotto and a sprinkling of Red Leicester and parsley. Serve immediately.
Notes
Serving size, serves 4 as a main dish or as a starter for 8. This risotto works well as a warm canape served in espresso cups too.