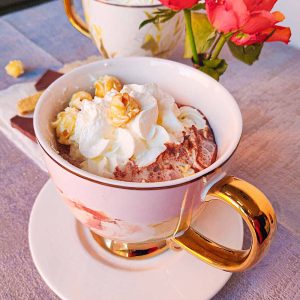 Mocha Deluxe
A drink of indulgence and luxury! This recipe creates a velvety, smooth mocha with real cocoa rich chocolate and wholesome dairy ingredients.
Ingredients
1

espresso

100

ml

double cream

250

ml

whole milk

1

tbsp

sugar

100

grams

dark cooking chocolate, roughly chopped

1

can

squirty whip cream
Instructions
Gently heat the freshly made espresso, double cream, milk, and sugar in a saucepan and bring to a gentle simmer, whisking occasionally and ensuring the sugar is fully dissolved. If using espresso granules make up as per instructions.

Reduce heat to low and mix in the chopped cooking chocolate and stir until melted and smooth.

Remove from heat and serve by pouring the mocha drink into heat-proof glasses or mugs ¾ up,leaving room to finish with squirty cream and other sprinkle toppings of choice.Serve and enjoy!
Notes
Ideal for Easter and to use leftover Easter chocolates.
Topping suggestions:
1 tbsp whipped or squirty cream
a few mini marshmallows
1 tsp caramel sauce
pinch of sugar sprinkles
pinch of ground cinnamon
chocolate syrup
chocolate curls
toffee popcorn