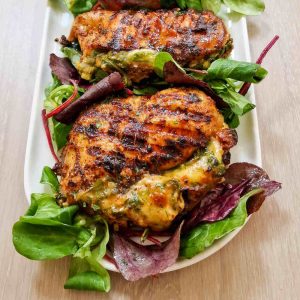 Mozzarella stuffed chicken breasts
Get some classic Italian flavours on your grill this summer with our grilled chicken breasts stuffed with a moreish mozzarella filling; very delicious and melted cheesy perfection. Yum!!
Ingredients
160

g

freshly grated Mozzarella cheese

60

g

fresh spinach, roughly chopped

30

g

chopped 3-4sun-dried tomatoes

3-4

spring onions

1

large cloves garlic (5g), minced or finely grated

4

chicken breasts, patted dry with a paper towel

½

tsp

salt

1

tsp

black pepper

1

tsp

sweet paprika

¾

tsp

garlic powder

½

tsp

onion powder

2

tbsp

oliveboil
Instructions
1. Preheat the barbeque on a medium to moderate heat

2. Place the into a mixing bowl along with the sun-dried tomatoes, spring onions, garlic, and combine before adding the mozzarella cheese. Set aside until ready to use.

3. In a large shallow bowl, combine the salt, pepper, paprika, garlic powder, and onion powder and stir then add in olive oil and combine and set aside.

4. Create pockets in each chicken breast for the mozzarella stuffing. On a chopping board place one hand on top of a chicken breast to keep it steady and flat. Insert a sharp knife in the middle of the thickest part. Make a slit about 5cm long (this will be dependent on the chicken breast size and thickness). Place the chicken breasts in the bowl with the spice rub and evenly coat each chicken breast. Now fill about 3tablespoons of the mozzarella filling into the pocket of each chicken breast.

5. These are ready to cook on your pre heated barbeque. Cook until the chicken is cooked through, and juices run clear when pierced with a knife.