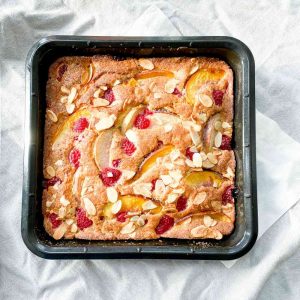 Peach melba cake
Bursting with summer fragrance and sweet fruitiness; this peach and raspberry cake captures the essence of summer in a cake! A light yet moist cake with a slight crumb. A delightful bake indeed.
Ingredients
100

grams

caster sugar

150

grams

unsalted butter

melted plus extra for brushing (cooled)

2

medium

eggs

whisked

150

grams

plain Greek-style yogurt

2

tsp

vanilla extract

150

grams

plane flour

sifted

1

tsp

baking powder

half

tsp

baking soda

100

grams

large ripe yellow peach

One half finely diced, the other half thinly sliced.

100

grams

raspberries

15

grams

demerara sugar

15

grams

flaked almonds
Instructions
Preheat the oven to 180C/160C fan. Line an approx. 20 x 20 cm square cake tin with baking paper. Brush the bottom and sides with melted butter.

In a large bowl place sugar, cooled melted butter, eggs, yogurt, and vanilla extract and mix until well combined.

Now add in dry ingredients - flour, baking powder, and baking soda; mix well until well combined.

Add the finely diced peaches and half of the raspberries and gently fold. Pour the cake batter into the prepared cake tin. Top the cake mixture with peach slices and remaining raspberries, pressing down gently.

Scatter almond flakes and sprinkle of demerara sugar on top of the cake mixture. Bake for 40-50minutes until golden brown.

Allow the cake cool in the tin. When cake is room temperature cut the cake into squares and serve.
Notes
This yogurt cake is best served instantly at room temperature with a spoonful of extra thick cream.
*Serving size depends on how you wish to serve – mini squares cakes for afternoon tea or large squares for pudding, so ranges from 6-12 portions