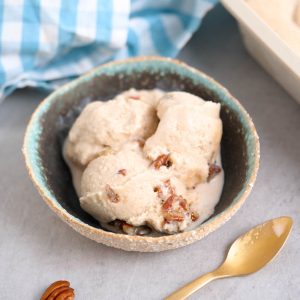 Pecan, caramel, banana ice cream
Don't be fooled, homemade ice cream is so easy to make. This delicious milk-based ice cream recipe makes for a tasty and creamy treat!
Ingredients
2

ripe bananas

300

ml

double cream

150

ml

whole milk

150

gr

sugar

½

tbsp

vanilla extract

½

tsp

salt

150

gr

pecan nuts, crushed

6

medium-sized store-bought toffee caramels

3

tbsp

whole milk
Instructions
In a food processor, blend a banana with double cream, milk, sugar, vanilla and salt.

Pour mixture into a saucepan and heat at low heat. Whisk until the sugar is dissolved. Let the mixture cooldown for 30 minutes.

Pour ice cream batter into a zip-top bag and seal.

Place in the freezer for a couple of hours until solid.

In a small pot, melt caramel with 3 tablespoons of milk. Once melted, add pecan nuts and cook until warmed up by the caramel.

Remove ice cream from the freezer and break it into pieces. Blend using a food processor until creamy, pour into an airtight container and set aside.

Combine caramel with the ice cream.

Cover tightly and freeze again until ready to serve.