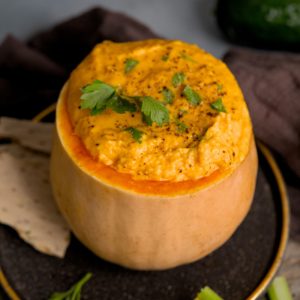 Pumpkin dip
Get ready to "cheese" out your Halloween gathering with this ghoulishly good pumpkin dip, featuring the hauntingly delicious duo of Cheddar and Brie. A spine-chillingly scrumptious treat. Happy Halloween!
Ingredients
200

gr

pumpkin, diced

100

gr

British Brie

100

gr

Red Leicester Cheddar

1

garlic clove

2

tbsp

butter

1

tsp

curry powder

½

tsp

cardamom powder

½

tsp

ground black pepper

½

teaspoon salt

1

tbsp

fresh ginger, peeled

a squeeze of lime juice
To serve
fresh parsley, celery sticks, crackers
Instructions
In a baking tray, combine diced pumpkin with garlic and butter. Bake at 170ºCuntil tender and juicy.

Take pumpkin out of the oven and place it in a large bowl. Add Brie, Cheddar, spices and lime juice.

Blend using a hand blender.

Serve with celery sticks and crackers.