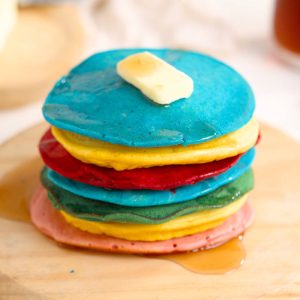 Rainbow pancakes
These fun rainbow pancakes are going to brighten your morning! Perfect for a celebration breakfast or to put a smile on someone's face : )  We have used the classic pancake recipe, and added some colour for extra fun.
Ingredients
280

ml

whole milk

3

tbsp

lemon juice or vinegar

2

eggs at room temperature

140

gr

all-purpose flour

1

tbsp

baking flour

1

tsp

salt

1

tsp

vanilla extract

4

tbsp

butter, softened

6

tbsp

sugar

3

different food colourings
Instructions
In a glass, combine whole milk with lemon juice or vinegar. Let it curdle for 10 minutes to create a buttermilk.

In a large bowl, mix flour, baking powder, vanilla and salt.

Whisk egg whites until creating soft stiff peaks. In a separate bowl, mix egg yolks with softened butter and sugar.

Gently combine egg yolks with egg whites and the flour mixture.

Separate the batter into a minimum of 3 medium-sized bowls (the more, the better!). Tint each of them with a different food colouring. You can also combine them for creative shades.

Heat a pan over medium heat and grease with 1 teaspoon of butter. Pour 3-4 tablespoons of batter and cook until the top is filled with bubbles.

Flip and cook on the other side. Repeat until all pancakes are done.

Serve with maple syrup and butter.