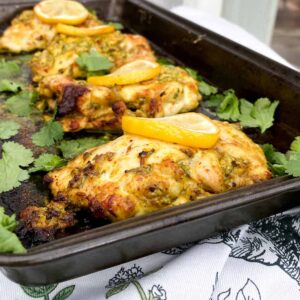 Roasted Jeera chicken
Abundantly flavoured Indian spiced chicken with a gentle heat. Incredibly easy to make ideal for alfresco gatherings and those impromptu picnics, especially with the British weather!
Ingredients
Dry
1

tsp

Cumin (ground)

½

tsp

Cumin seeds

½

tsp

Garam masala

½

tsp

Ground black pepper

½

tsp

Turmeric (ground)

½

tsp

Salt
Wet
6

Boneless, skinless chicken thighs

100g

Plain Greek-style yogurt

2

tbsp

Vegetable oil

5g

Garlic (finely grated/puree)

10g

Fresh coriander (finely chopped plus extra for garnish)
Instructions
Preheat the oven to 200C and set aside a baking tray or large shallow oven dish.

Mix all the dry ingredients in a small bowl.

Mix all the wet ingredients except the chicken in a large bowl and combine.

Place the dry spice mixture into the wet and mix well to combine all the ingredients to create a thick marinade.

Place the chicken thighs into the marinade and coat each thigh.

Place on a baking tray and cook for 15 minutes or until cooked through with a golden-brown crust.

Serve with a wedge of lemon.
Notes
This cooks well on a barbeque grill as well as in the oven.
Leftovers can be shredded to a salad.
Chicken can be marinated up to 24 hours beforehand and stored in fridge; bring to room temperature before cooking.