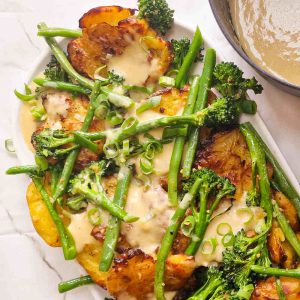 Smashed potato and greens salad
Cook this simple, tasty, potato salad as a delightful side dish. Crispy potatoes on the outside with soft centres, crunchy greens, finished with a warm and incredibly indulgent mature cheddar dressing.
Ingredients
Dish
800

grams

baby potatoes, washed & scrubbed

120

grams

melted butter

1

garlic clove, grated, minced, or finely chopped

200

grams

green beans trimmed

200

grams

tender stem broccoli

2

spring onions, finely sliced

salt and pepper
Cheddar dressing
100

grams

mature cheddar, grated

1

tsp

cornflour

200

mls

single cream

1

tsp

English mustard

2

tsp

balsamic vinegar
Instructions
Boil the potatoes in a medium saucepan of salted water and cook for 15 minutes or until soft and tender in. Drain, then allow to cool slightly.

Preheat the oven to 200°C/180°C Fan. Smash the potatoes one by one on a hard surface such as a chopping board, with the base of a large drinking glass or potato masher. Do not press too hard as they may fall apart. Place the smashed potatoes individually on a non-stick large baking tray.

Drizzle approx. 100ml melted butter over the potatoes and generously season with salt and pepper; roast in the oven for 7 minutes or until golden brown with crisp edges. Halfway through cooking flip each potato on to the other side and continue cooking for a further 7 minutes.

Make the warm cheddar dressing. In a small saucepan place the grated cheese and cornflour, combine to evenly coat the cheese with the cornflour. Stir in the cream then mustard and cook on a low heat. Stir continuously to avoid clumps and until the sauce becomes thick and glossy. Finish by adding the balsamic vinegar. It is essential to use a low heat to melt the cheese gently. Set aside and keep warm.

Mix in the garlic and pinch of salt into the saucepan of leftover melted butter. Toss the French beans and tender stem broccoli in the garlic butter. Roast the greens for 5 minutes in the baking tray along with the potatoes. The greens should be a vivid green, cooked and hold crispness.

Place roasted smashed potatoes and greens on a large platter, drizzle over the warm dressing,scatter the spring onions and serve immediately.