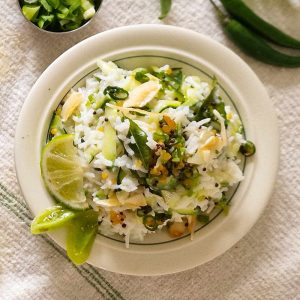 South Indian yogurt rice
Curd Rice - a classic South Indian dish which takes plain cooked rice to new heights! A simply fabulous way to makeover leftover rice into a lightly spiced and fragrant dish, ideal for gatherings.
Ingredients
4

tbsp

sunflower oil

1

tsp

mustard seeds

¼

tsp

asafoetida

1

tbsp

mung dal/split mung beans

4

spring onion, sliced

5

g

ginger stem, grated

3

green chilies, finely sliced (can be made optional)

2

sprigs curry Leaves

1

medium courgette, coarsely grated

8

sprigs coriander, finely chopped, plus extra for garnish
Garnish
10

g

toasted coconut flakes

1

zest to garnish (optional)
Instructions
Reheat cooked rice. Place the rice in a large bowl, pour in yogurt, add salt, and stir; cover and set aside.

Create a tempered mixture. Heat oil in a medium frying pan over a moderate heat, Once the oil is hot add mustard seeds, asafoetida, mung dal, green chilies, ginger, and curry leaves if adding. Stir for 1 minute or until the dal is evenly toasted, golden brown and releases a nutty aroma; reduce heat to medium. 

Stir into the frying pan the prepared spring onions, courgette, and coriander. Allow to cook and stir for 1 minute then remove from the heat.

Mix ¾ of the tempered mixture into the yogurt rice and stir to combine. Divide into to 4 individual serving bowls or one large serving bowl, and garnish with the remaining tempered mixture, chopped coriander, coconut flakes and lime zest if adding before serving.
Notes
• Urad dal (dried split matpe beans) is traditionally used however we have replaced with split mung beans (mung dal), equally nutty and accessible to buy.
• Garnish a sprinkle lime zest if curry leaves are unavailable.
• Best served at room temperature. For health and safety Do not store leftovers and consume this dish with in two hours of making.
• Cool, creamy South Indian yogurt rice a great summery dish and one to make a head to please a gathering.