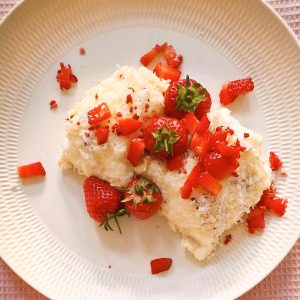 Strawberry and Cream Coconut Cloud
The creamiest dessert ever! Light fluffy cream rolls smothered in coconut and finished with sweet, fresh strawberries. This no-bake dessert is a perfect treat for summer days and oh so simple to make.
Ingredients
150

grams

condensed milk

250

mls

double cream

250

mls

whole milk

3

tbsp

corn flour

1

tsp

vanilla extract

100

grams

desiccated coconut, toasted

10

grams

freeze dried strawberries

200

grams

fresh strawberries
Instructions
In a medium saucepan pour in all the condensed milk, 125g double cream, whole milk and vanilla extract. Combine to a smooth mixture. Place on a low heat and stir gently continuously until thickened to a, for about x minutes

In a shallow baking tray, approx.18cm x 25cm scatter all the coconut and freeze-dried berries. Gently pour the creamy mixture into the tray and spread evenly whilst it is warm. Place in the fridge to set for 20 minutes.

Whip the remaining half of double cream (125ml) and spread evenly on top of the chilled creamy mixture.

Cut the bake into four sections and gently roll each one to create rolls. Place them on a chopping board and cut each roll further in the middle to create 8 rolls in total.

Serve with fresh whole or chopped strawberries and enjoy!
Notes
Toasted coconut is more flavourful and easier to chew.
This dish is best served fresh to retain fluffy texture.