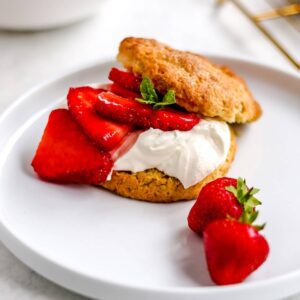 Strawberry shortcake
These strawberry shortcakes are exactly the summer sweet treat you've been looking for. Sweet, tender, easy to make and overflowing with cream - exactly as they should be!
Ingredients
Ingredients for the biscuits
170

g

self-raising flour

2

tbsp

caster sugar

1

tsp

baking powder

¼

tsp

baking soda

½

tsp

salt

90

g

cold butter

125

g

yogurt
Ingredients for the berries
600

g

strawberries

1

tbsp

sugar
Ingredients for the cream
250

mls

double cream

1

tbsp

sugar
Instructions
 Preheat the oven to 200c and line a baking sheet with parchment paper.

In a large bowl, combine the flour, sugar, baking powder, baking soda and salt. Mix together until combined.

Take the cold butter and cut it into small cubes before adding to the flour mixture. Using your fingers, rub the cubes of butter into the flour until the flour resembles wet sand. It's okay if there are a few chunks of butter, but it should be mostly rubbed in.

 Add the yogurt to the mixture and combine until a dough ball just forms.

Sprinkle flour onto a dry surface and dump the dough onto the flour. Using your hands, form the dough into a rectangle. Fold one side into the center, then the other side. Turn the dough horizontally. Gently flatten into a thick rectangle again. Repeat the folding again. Turn the dough horizontally one more time. Gently flatten into a thick rectangle. Repeat the folding one last time. Flatten into the final thick rectangle.

Using a drinking glass, measuring cup or cookie cutter, cut out as many biscuits are possible from your rectangle and place on the parchment. Form another rectangle from what dough remains and continue this process until you have 6 biscuits.

Sprinkle the biscuits with a bit of extra caster sugar and bake for roughly 15 minutes.The biscuits should be light with a golden crust on top. Set aside to cool.

While the biscuits bake, slice the strawberries and add the sugar. Stir together and leave to sit and macerate.

Before serving, whip the double cream with sugar until soft, stiff peaks form.

To serve, slice the warm biscuits in half. Layer in the cream and strawberries with their juice and enjoy!