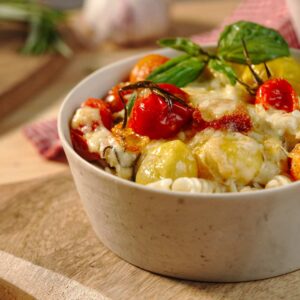 Tomato and goat's cheese pasta
You've probably seen this recipe on TikTok or Pinterest. The original is made with baked feta. Our version is even more succulent and creamy. This sumptuous tomato and goat's cheese pasta recipe is made with soft goat's cheese and melted mozzarella. It includes coloured cherry tomatoes and aromatic fresh herbs, as rosemary and basil. With our twist, you'll understand even more why this recipe became so famous!
Ingredients
200g

Pasta of choice

2

Garlic cloves, peeled.

300g

Coloured cherry tomatoes

2

tbsp

Fresh rosemary, roughly chopped

¾

cup

Olive oil

250g

Soft goat cheese

½

cup

Mozzarella cheese

2

tbsp

Salt flakes

1

tsp

Freshly ground black pepper

½

tsp

Red pepper flakes

Fresh Basil leaves (to decorate)
Instructions
In a baking dish, toss cherry tomatoes and peeled garlic cloves with olive oil and roughly chopped rosemary leaves.

Place a 250 gr. block of soft goat cheese in the middle of the tomatoes and drizzle some oil on top.

Season with salt flakes and freshly ground black pepper.

Bake the tomatoes and soft goat cheese in the oven at 200ºC, top and bottom, for around 20 minutes.

After 20 minutes, open the oven, carefully take the dish out and sprinkle mozzarella cheese on top of the tomatoes.

Bring the dish back to the oven and grill for 10 more minutes.

While the tomatoes and cheese are in the oven, boil the pasta.

Take the baking dish out of the oven and roughly smash the cherries, garlic cloves, and cheese together.

Serve the boiled pasta on each plate and top with the cheesy tomato sauce.

Decorate with fresh basil leaves.

Eat immediately while this Tomato and Goats' Cheese Pasta is warm and melty!