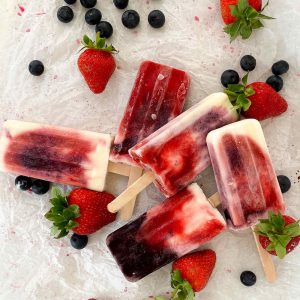 Very Berry Ice Lolly
Our delicious milky, fruity ice lollies are bursting with flavour and perfect for enjoying in the summer sunshine! Get the best of both worlds – creamy like an ice cream and refreshing like a lolly.
Ingredients
300g

Full fat crème fraiche

200g

Whole milk

2

tsp

Vanilla extract

50g

+ extra 10g Icing sugar

200g

Strawberries

150g

Blueberries

20ml

Water
Instructions
In a large bowl whisk the crème fraiche, milk, vanilla extract and 50g icing sugar to create a sweet creamy mixture.

 In a blender or food processor, puree strawberries with 10ml water, 1 tsp/5g of icing sugar (optional)and pour in a small bowl. Repeat and puree blueberries with 10ml water 1 tsp/5gof icing sugar (optional) and pour in a small bowl.

Place the ice-lolly moulds on a flat surface and alternating, pour the dairy mixture and the two fruit purees into each mould - creating 3 to 5 layers for each ice-lolly.Insert lolly sticks and freeze until solid.

Remove from the freezer and dip the moulds briefly into warm water to release the lollies. Serve immediately.
Notes
Lollies store well up to a week. Each lolly is approx. 90ml
Swap the strawberries and/or blueberries for other fruits like cherries and other summer berries.
If you do have any left-over mixtures, create a berry smoothie by further adding yogurt, a banana and ice.